nd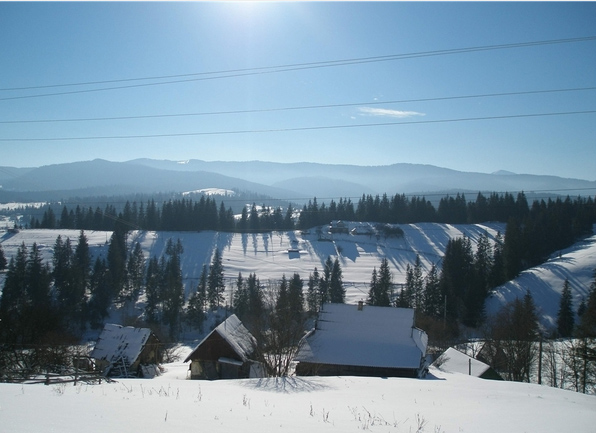 Vorohta is a picturesque village in Ivano-Frankivsk region, surrounded by the Carpathian mountains. It is one of the best alpine ski resort of Ukraine. Vorohta is considered to be one of the major tourist and sports center in western Ukraine and the Carpathians. In addition to mountain skiing Vorohta attracts tourists with the beauty of the surrounding mountain peaks, raging rivers and beautiful ancient forests. Healthy air, smelling smereka needles will make your vacation in Vorohta not only interesting but also useful.
How to get to Vorohta
* Through the village runs the railway, Ivano-Frankivsk - Rakhiv.
* By car from Ivano-Frankivsk go along the track P03 (A265) to the village of Tatariv, then twist to Vorohta.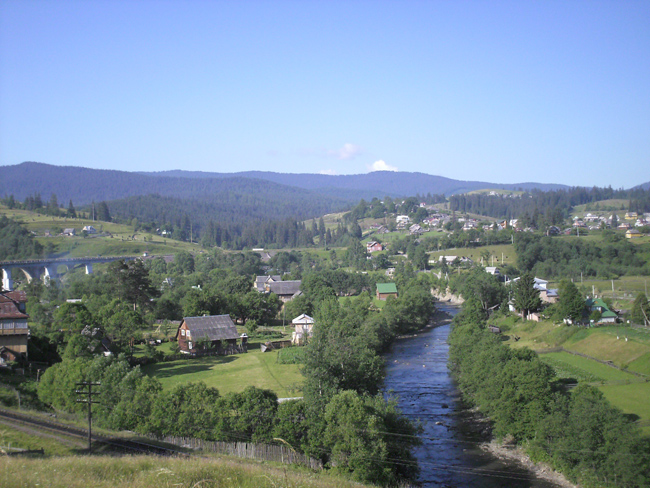 * From Tatarov (also from Yaremche through Tatariv) to Vorohta go taxis, but you can go five kilometers on foot, admiring the views.
* The train Lviv-Rakhiv diesel Ivano-Frankivsk - Rakhiv;
* Taxi Ivano-Frankivsk Vorohta, Ivano-Frankivsk – Verhovyna
Entertainments in Vorohta
* Walk on jeep. Jeeps for $ 150 per hour per car - sightseeing tour;
* ATVs and snowmobiles from $ 150 per dayly excursion;
* Make a small hike, an overnight stay in a tent;
* You can take part in the preparation of traditional Gutsul dishes on an open fire, listen to singing and playing folk music: racy Kolomyiki and Spivanki.



Slopes for skiing in Vorohta
Gentle slopes, almost no trees - good for beginners. There are also ski ramps with artificial turf: you can skiing even without snow.
Near the base of "Avangard" - a 300-meter ski rope tow and 2 km chair lift. On the mountain Makovytsya - 250-meter rope tow. During the winter season, set two more 100-meter ski lifts.
Attractions of Vorohta
On a tour you can go into the town Delyatyn - look there Church (26 km) to Manjavsky monastery - the functioning monastery (43 km), Sheshorsky Hook - one of the most beautiful waterfalls (32 km). Vorohta has one of the best examples of Gutsul wooden architecture and at the same time the oldest facility - Nativity of the Virgin Church, XVII century. You can also go to the famous resort town Yaremche, Yablunitsky notch, the city Rakhiv, you should go on the trail of Dovbush - Galician liberator (17 km) and see Pnevsky Castle (37 km).
Winter holiday in Vorokhta
Winter recreation in Vorohta gives excellent opportunities for mountain skiing and ski jumping, since village is famous for its abundance of ski lifts, cableways, ski jumps, runs and climbs. This is where the athletes are preparing for the ski jumping and 
biathlon. Therefore, an alpine ski vacation in Vorohta will please even the most experienced skier. Mountain ski complex in Vorohta operates all year round.  Beginners on a ski vacation in Vorohta also will not be bored. There are special trails for beginners, instructors work. In addition, fans of winter recreation in Vorohta can ride a sleigh or spend time in the wonderful Carpathian kolyba. Winter holiday in Vorokhta is ski, sled, snow, and good humor.
Summer and autumn in Vorohta
Vacation in Vorohta during fall, spring and summer attracts large numbers of tourists. And no wonder, since every season settlement gives tourists the opportunity of active relaxation, diving into amazing nature of the Carpathians, enjoing the clean mountain air and water springs.
Recreation in the spring Vorohta - the awakening of nature, riot of colors, interesting excursions. If you - a connoisseur of historical monuments, necessarily visit Gutsuls wooden Church of the Nativity of the Virgin, and also pay attention to the arched railway bridges built in 19 century. 
Summer in Vorohta gives tourists picking berries and mushrooms, walking through forests and valleys, swimming in rivers and waterfalls, hiking in the mountains. Just 15 kilometers from the village located proud of the Carpathians - Goverla, so that, having been on vacation in Vorohta, you can climb the highest mountain of Ukraine. Vacation in Vorochta during autumn is rafting, mountain biking, fishing and more.
Prices for winter holidays in Vorohta
Prices in Vorohta can be described as average, of course, there are slight variations. Everyone can find accommodation to fit his desires and possibilities. There is no lack of choice. You can find in Vorohta hotels and guest inns, where you can enjoy your private vacation in Vorohta. In general, the price of recreation in Vorohta depends on three factors: proximity to the ski lifts, comfort of  accommodation and season. In winter prices are always slightly higher than in summer, as it is ski season.
Recreation in Vorokhta is a great holiday in the lap of nature. Here you can spend unforgettable days that remain in your memory for a long time. Vacation tours to Vorohta give you a good recreation and enjoying with the beauty of this distinctive place.
Vorohta Mountain Ski Video